Who else do we know that can say they go to the beach in December? Well, other than our friends here in Hawaii!!! Yes, I am rubbing it in...a little!
We went up to North Shore a couple of days. The first to try out my new camera that Brian decided to buy me!!! I have been wanting a Digital SLR camera for a while now, but figured that when our current camera (that is VERY good) went out, that I would get it then. Brian went to dinner one night with Matt and they took a trip to Best Buy after dinner. Brian bought each of us a Christmas gift. The only thing is that I think I am going to need to take a couple of classes now....there are so many buttons and things you can do with this camera!!! I want to use it to it's full potential!
Anyway, here's some pics from our trips. We went to a beach that I really like since it's got some good sunsets (we didn't stay late enough for one) and some gorgeous rocks that are fun to explore and photograph.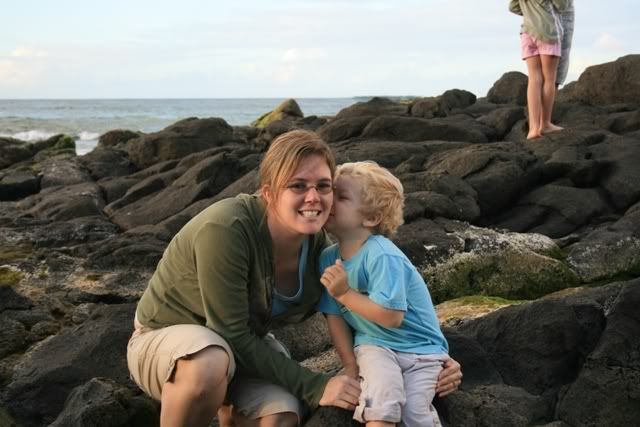 This last picture is on the way home from the beach the second night. The dip in the mountains is Kolekole Pass. Many people think that the Japanese came through this pass on December 7th to bomb Pearl Harbor and the other military installations on the island. However, after see if that was true, I read that it just looked like they came through the pass. They actually flew along the inside of the mountain range, making it look like they came through the pass. Just a little trivia for y'all!