Sea Life Park is basically a smaller version of Sea World. The shows aren't as good, but it will do. Plus, it's easy to get through in just a few hours and Austin can make it through the whole thing on his own two feet! So, we woke up today and decided that Sea Life Park would be a good activity for us to do.
If you click on the picture to make it bigger and look closely, you can see a long trail of stairs that leads all the way up to the top of the mountain. This is called the Stairway to Heaven and it's right off H3 on the way to the Windward side of the island (the eastern side). It's something I wanted to do before getting to Hawaii, but after seeing it in person, I have my reservations. I have heard that the stairs are a little rickety, but we see people climbing it almost everytime we drive by. Guess it's doable....
Austin being silly...he loves these things!
When you first walk in, there's a pool full of stingrays, turtles, and fish. You walk around the pool and you go deeper and deeper "in" the water. When you get all the way down, you go out of the aquarium and you are in the park.
My two boys...
Then you walk into the park, there is a turtle pond right in front of you. For $2.00, you can buy a cup full of vegetables and feed the turtles. Austin loved thowing in the broccoli, lettuce and cauliflower!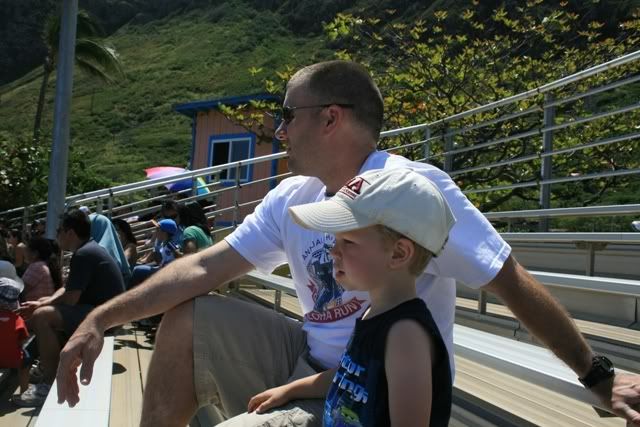 Watching the Dolphin Show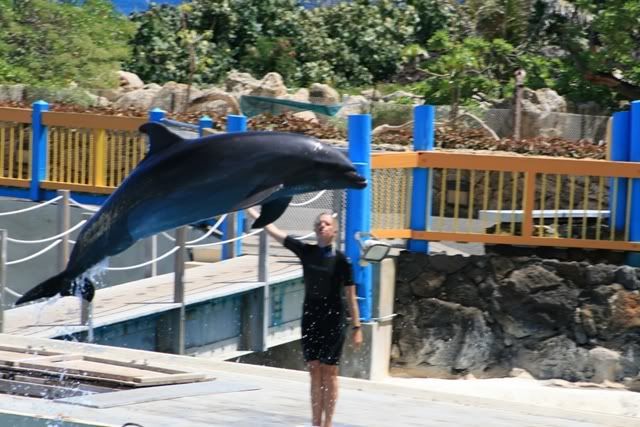 A good shot of one of the dolphins...after seeing this show, Austin decided that he wanted to pet some dolphins. We will probably do one of the Dolphin experiences before we leave Hawaii.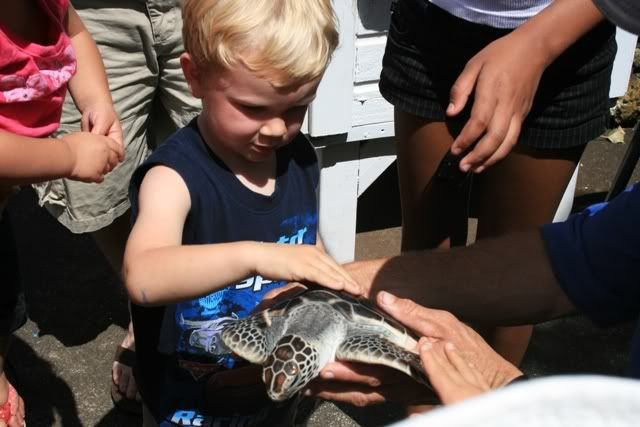 Austin petting a baby turtle...
Overall, it was a great visit. Austin was so tired he fell asleep on the way home!