Brian and I went to the Pro Bowl this year...the second year in a row. We sat in almost the same area that we sat in last year, so the view wasn't much different. Our friends Randy and Leslie had gotten the tickets for us, so we sat next to them and had a great time watching the game (as well as all the beach balls bouncing around the fans!)
Pre Game events...
The National Anthem with the flag being formed on the field.
A picture of the fully formed flag and the stadium.
The flyover...CH-47 Chinooks from the Hawaii National Guard.
A random extra point....at some point in the game.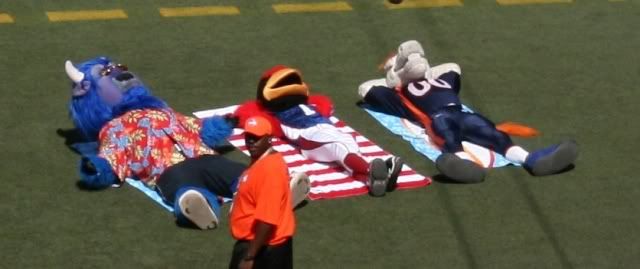 I'm sure the mascots love the Pro-Bowl...it's the only time they get to interact with each other and not be rivals. They were pretty funny at times....
We just happen to sit in front of some people who are orginally from Arkansas....the lady right behind the sign is from Benton but lives in Kailua, HI now.
Here's Randy and Leslie....Brian decided to take a TON of continous pictures of them coming back up to their seats...he did the same thing with me and then did the same thing with a play on the field. Guess he was bored?!?!