Our flight to Orlando from Honolulu was long, but Austin did a GREAT job, as usual! He's such a great flyer and most of the time, people are surprised by his behavior during such a long flight! We get to Orlando and he's all excited about getting on the cool Disney Bus that they have to take us to our resort. However, when it's time to get on that bus, it's a totally different story! Austin decided that the bus was scary and ran back into the airport and wouldn't get on the bus! Being the mean parents we are, we forced him on the bus. Little did we know that the bus wasn't leaving for another 20 minutes, so I got to physically hold Austin into his seat so he wouldn't run off the bus. About 2 minutes before we leave the airport, he finally calms down....and does a 180 with his mood. He's now happy and cheerful once again! We chalk this tantrum up to being tired and overstimulated and being in a new environment all at the same time.

Once checked into our hotel room, we go to dinner at the food court and then decide to check out the gift shop at our resort (we stayed at the All Star Movies Resort). We walk all around the store without Austin wanting a single things UNTIL we are about to leave and he sees this WONDERFUL Disney Holiday train set. Seriously, the kid thought he was going to pick up that box and walk out of the store with it THAT night! We get through a small tantrum by having him look at these other toys on the wall. He decides that he just NEEDS this Buzz Lightyear toy that when you squeeze his legs together, his helmet spins these little lights around. We figured $10 was a lot better than $60 at this point and we had no idea how we were going to get the train set home anyway!
We walked back to our hotel room with a happy little boy and a spinning Buzz. Got got tucked into bed while the parents waited for the lugguage that was 2 hours later than it should have been! We started unpacking when it finally did get there and started planning for our first day at the parks. It's late and Brian comments on how much planning and other non-fun stuff there is involved when you're the parent and not the kid! (I figured I'd put that in there for our parents...as I am sure they are nodding their heads in agreeance).
Monday morning roles around and the alarm goes off EARLY! Our first day is to Animal Kingdom and it's Early Magic Hour today. The park opens up an hour early for resort guests, so we get up and get ready, wake Austin and we are off for a breakfast on the go and then to the bus lines where we wait for the first bus of the morning to take us to Animal Kingdom.
Once there, we have to wait a bit more to actually get into the park since we were so early! Yes, I like to get there early and you never know if you're going to be the family to get picked to help "open the park." Those familes get free stuff and Dream Fastpasses that can be used all day! I figured we wouldn't have that luck anyway, but we could at least try! While waiting for the park to open, we get a map and Austin had to have a look at it too. I took a picture of him planning our day...I thought it was pretty cute!
When the park opens, you walk up the Tree of Life and then wait AGAIN for their opening ceremony. We wait about 2 minutes, watch the ceremony, then EVERYONE starts running to get in line for Expedition Everest, the new roller coaster. We head that way and get fast pass tickets and then make our way over to the Safari ride. Austin enjoyed that since he got to ride in a truck and look at animals.
After the Safari, we made our way back over on the other side of the park and went to DinoLand. Here, Austin rode his first real ride at Disney World. He and Daddy rode in the front of the Dinosaur and I rode in the back.

After some play time at the playground and a game or two, we left DinoLand and went back to Expedition Everest so Mommy and Daddy could ride the coaster. Mommy got a good picture of Daddy, then Daddy got a good picture of Mommy, but while I was deleting the "test" pictures that Brian took, I deleted both pictures! So, I took the picture of Brian on his second turn and that's what we ended up with! Can you find Brian in this picture???
As we were walking around the park, we just happened to come across PLUTO, Austin's favorite character. Pluto was the only character that Austin said he wanted to meet, so it's fitting that he would be the FIRST character that we saw! So, we got in line and Austin got to meet Pluto and get his picture taken with him!
After the Pluto sighting, Austin wanted to be carried...I guess he was tired of riding in the stroller and walking. So, here's the first time of many that he got to ride on Daddy's shoulders.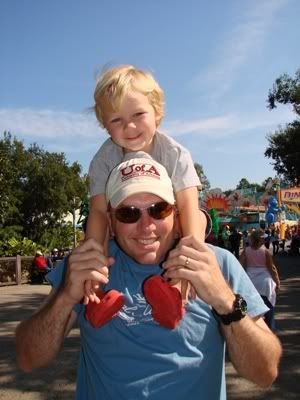 There really isn't a lot for Austin's age to do at Animal Kingdom. So, we went over to Camp Minnie Mickey and started meeting the characters. They all have their own little hut where they hang out and you stand in line to get pictures and their signatures. First, we went to Goofey....Austin was terrified. So, Brian got his picture taken with him. Then, we went to Donald Duck. He wasn't so sure of Donald, but as long as Mommy was there with him, he would get his autograph and take a picture with him.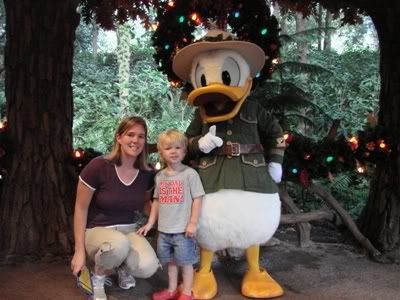 THEN, we went to see Minnie. He was really impressed with Minnie. He went right up to her and got her to sign his book and gave her a hug and all. They took his picture and she kissed him on his head. We were walking away when he said, "Minnie gave me a kiss!!!" He just really loved that!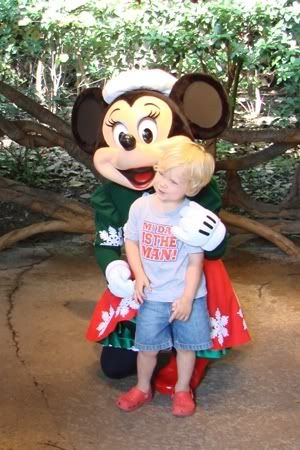 After Minnie, we saw a Lion King show, went and saw Mickey (he was pretty impressed by "Mouse" as well), and then went to another part of the park where they have a petting zoo. After the petting zoo, we waited for the parade and watched all the animals and characters in the parade. By the end of the day, we were tired. About 20 seconds after walking away from our spot at the parade, Austin was OUT! He just couldn't keep his eyes open anymore!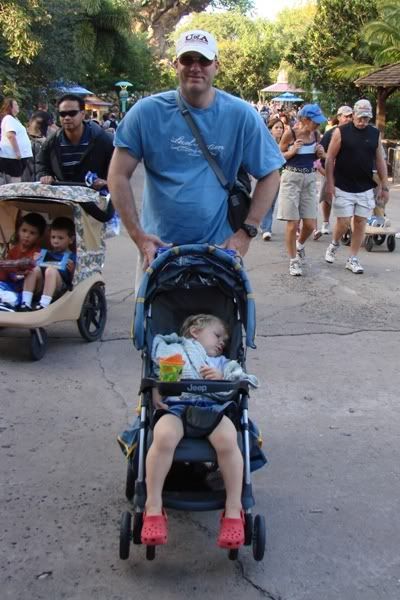 We left the park and then went to Downtown Disney to eat dinner and do a little shopping. It was a FULL day, but fun all the same. Our plan for Tuesday is to go to MGM Studios.