Wow...Magic Kingdom is definately a 2 day park...or MORE! I will probably have 3 posts about this park because it is just so big and so awesome!
Our first ride was Buzz Lightyear's Space Ranger Spin. It promised to be a cool ride and Austin was excited about it! You get into these space ship things and you have a lazer gun and try to shot at some targets. At the end of the ride, they have the scoreboard to see how good you were.
After Buzz, we rode the cars. Austin loved these. Daddy drove the first time and Mommy drove the car behind them.
Then, Austin and I rode a spaceship ride. It went a lot faster than the dinosaurs at Animal Kingdom, but Austin still really liked it.
After the spaceships, Austin wanted to ride the cars...AGAIN! So, Daddy rode, while I took pictures. He got to drove this time, but didn't like it too much according to Daddy. They are a little hard to steer and if you don't do it perfectly, they bump against the middle track.
Here's Austin at the sword in the stone behind the carousel. He tried to pull it out, but I guess he's just not the choosen one!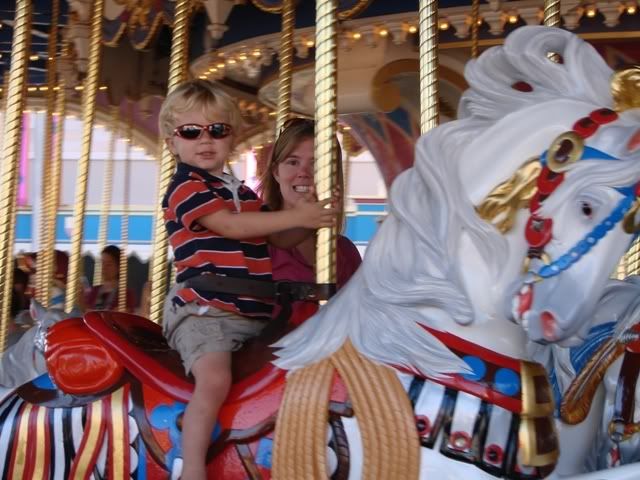 Then, we went on the Carousel. It was pretty cool and Austin did a great job staying on his horse by himself. We went on "Its a Small World" but didn't get any pictures. He liked that ride, Brian said it was easier to not be annoyed by the song when you are busy pointing out all the little details to a 2 year old.
After a little while at the Magic Kingdom, we left to go to the Contemporary Resort to have lunch with Mickey and Friends. We went to Chef Mickey's for lunch (still considered the breakfast buffet at 11am if you ever go to Disney World...much cheaper than the dinner buffet). Austin had a GREAT meal and got to meet his favorite characters again! Goofy and Donald were there too, but he doesn't like Goofy and Donald scares him sometimes too. He's still pretty impressed by Minnie. Of course, he is noticing girls a lot lately....he'll look at a pretty woman or girl and say, "Mommy, I like her...she's pretty!" I'm not sure if I am prepared for all of this when he gets older.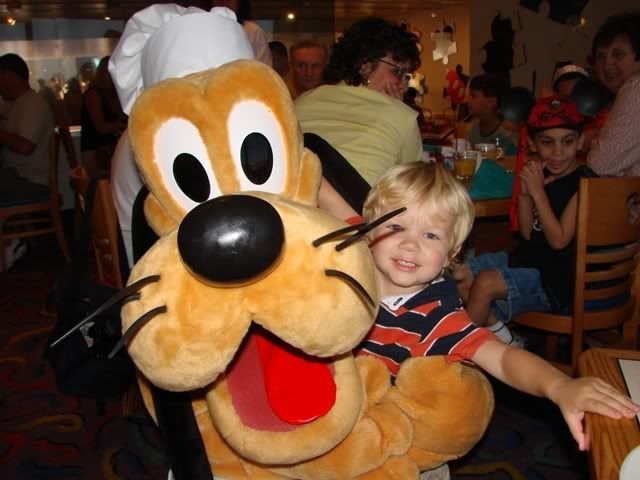 Then, he met Pluto....his all-time favorite for right now! It was all smiles and lots of hugs!

Then, came Mickey!!! What a great meal and so totally worth the money! Not to mention, the food was great and it was all you can eat! Did you know that they make waffles that are shaped like Mickey? hehehe...even at our resort for breakfast they had that!
After Chef Mickey's we went back to the resort for the rest of the afternoon. Austin was starting to get pretty tired by this time of the vacation, so we figured an afternoon at the hotel would be good. We thought he'd like to spend a little time at the pool as well.