Epcot is basically seperated into two different sections....Future World and World Showcase. Future World has some rides and shows that correspond to the different sections (ie. Imagination has Honey I Shrunk the Audience). World Showcase has different sections showcasing 11 different countries. There are shops and shows that make you feel as if you have just visited that country for just a short while.
This is right outside the new Finding Nemo ride. It was pretty cool. You get into these clam shell seats and it takes you in front of some aquarium windows and the images of Nemo and Friends are holographically put into the water. Magically cool! They even have real fish in with the holograms. After the ride, there is another show, some learning areas, and a manatee tank.
After Nemo, we went to "Honey I Shrunk the Audience" show. It was pretty funny. It's a 3D show where they use special affects like spraying water on you when a dog sneezes, etc. Austin LOVED the 3D shows....whenever he got a little frightened, he would take his glasses off, but then put them back on really quick. After the show, we ran into Figment, a character that is special to Epcot.
After we left Figment, we started walking around the World Showcase part of Epcot. We made a beeline to Germany for lunch (yummy brats and German beer!) and right before we got to the country, Austin sees the TRAINS! Seriously, I think we were watching the trains for at least 30 minutes!
After lunch, I went into a shop and Brian and Austin sat and watched some ducks in the water...here's a picture that Brian took of Austin during that time.
What luck! After we started walking again, we saw Dopey signing autographs. So, we get into line Dopey has to take a break and they say that he "might" be getting a friend coming back with him. So, he leaves for about 5 minutes, then comes back with SNOW WHITE!!!
Needless to say, he was pretty impressed with both of them. He thought Dopey was funny and Snow was pretty.
For dinner, we ate at the Coral Reef. It's a great restaurant that has a HUGE aquarium with all kinds of fish and marine life. We got to sit RIGHT NEXT TO IT! That is pretty lucky, since it kept Austin pretty interested, then when the food got there, he was good to go! At one point, a scuba diver came over to visit....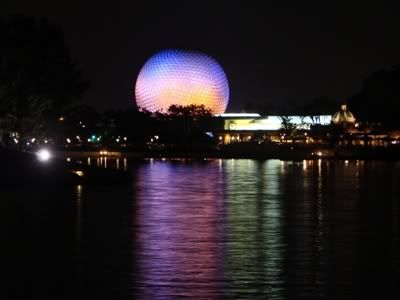 Here's a shot I took of the "big golf ball" before the fireworks started. That's what Austin called it the entire time we there.
Here's a shot of Brian and Austin before we left....pretty cool Christmas lights, huh!