We left Missouri to fly to Little Rock early on Friday morning after Thanksgiving. The idea was to get to Little Rock before the Razorback game started. Brian had invited all his friends over to his parents house to watch the game and he was really excited about being in AR for the game since it's always a big game to watch.
Well, American Airlines had other plans for us! The flight that was orginally a direct flight to Little Rock was rescheduled to fly through Dallas instead. So, we were leaving 5 minutes earlier than planned, but arriving in Little Rock 3 hours later than orginally scheduled. That made it so that we weren't getting there until after the game had already started! Needless to say, Brian wasn't happy! We discussed a few options and found out that it was impossible to do anything else other than get on that plane and be late.
Everything became better when we got to Yaya and Bobo's house and it wasn't even half-time yet. People had still come over to watch the was having a great time....and we just joined right in when we got there and didn't even think of the late arrival the rest of the night. The game proved to be a GREAT one...with Arkansas beating LSU and kicking them out of the #1 spot!
The gang after the football game
This is what it looks like when 4 toddlers try to get onto a piano bench at the same time!!!
Austin taking care of his future wife...sorry John, we'll make sure he treats her like a Lady!
Watching a movie ... aren't they so cute!?!
A picture of Hope and Austin gets taken every time they are together at this piano....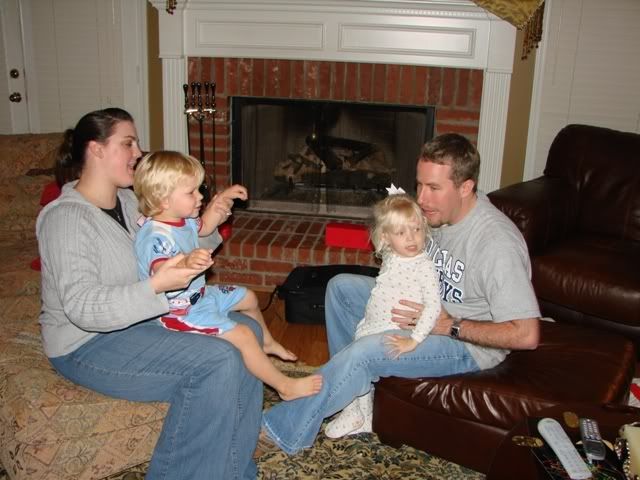 Austin with Lisa and Hope with Stacy at the end of the night.